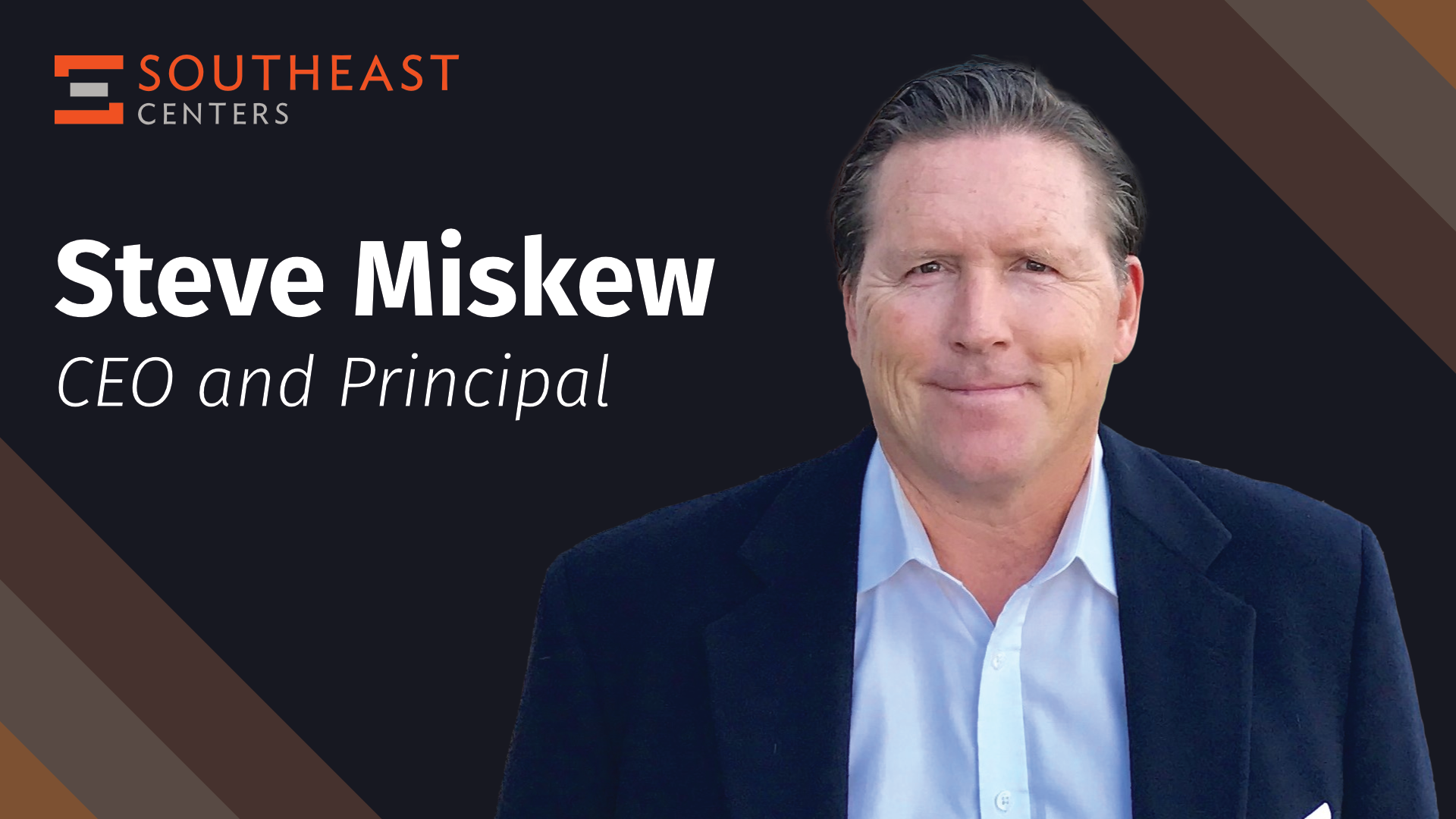 Steve Miskew Has Been Appointed Chief Executive Officer and Principal of Southeast Centers. Former President, Co-Founder, and Principal Marc Boucher Has Assumed the Role of Chairman.
BOCA RATON, FL, October 1, 2021 — Southeast Centers has appointed industry veteran Steve Miskew Chief Executive Officer and Principal. Miskew assumed the leadership role formerly held by company co-founder and President Marc Boucher, who remains with the firm as Chairman and Principal.
Based in Boca Raton, Southeast Centers is a full-service, institutional-grade, real estate asset management and development services company specializing in the management, leasing, development, and construction management of grocery-anchored centers. The company manages and leases a ±4-million-square-foot, 41-property portfolio throughout the state of Florida comprised primarily of grocery-anchored shopping centers as well as mixed-use and office properties. Southeast Centers has extensive experience working with some of the industry's most prominent grocery chains, including Publix, Whole Foods, Fresh Market, Trader Joe's, Winn-Dixie, and ALDI.
Miskew joined Southeast Centers in 2016 as Director and member of the company's Executive Committee. He brings 36 years of investment sales experience to the CEO and Principal position, having provided brokerage and advisory services to institutional and private owners in transactions worth billions of dollars over the course of his career.
Miskew has long been affiliated with Southeast Centers, working with Boucher and fellow co-founder Jerry Higier for more than 30 years.
"My relationship with Southeast Centers dates to the Nineties when I negotiated the sale of several assets they developed and brought to market with their institutional partner," said Miskew. "It was clear then that Southeast Centers treated each of its assets with diligence, care, and integrity. I knew the company would continue to thrive because of this dedicated stewardship."
"I am extremely proud to be a part of the Southeast Centers team and look forward to continuing the company's tradition of providing best-in-class service to both institutional and private owners for many years to come," added Miskew.
Previously, Miskew served as Managing Principal – Investment Properties Group and Market Leader with SRS Real Estate Partners following 31 years as co-founder and Managing Director at RJS Realty Group, Inc. Miskew began his career as an investment specialist with Coldwell Banker Commercial Real Estate Services (later CBRE) where he was a member of one of the national company's leading investment sales teams.
Miskew is an active member of ICSC and has served on The Florida Real Estate Journal Editorial Board and the Executive Committee of the Advisory Board of the Bergstrom School for Real Estate Studies at the University of Florida. He currently serves on the Achievement Centers for Children and Families Operating Board, the Delray Beach Historical Society Board of Directors, and the Delray Dunes Golf & Country Club Board of Governors.
Boucher joined SEC Commercial Realty (now Southeast Centers) in 1984 as a local in-line leasing representative for the company's developing centers. He was named President of Southeast Centers in 1999 and has remained in that role since, steering the company through its evolution into Southeast Centers and helping grow its portfolio to over 4 million square feet of space.
Before joining Southeast Centers, Boucher was the Chief Executive Officer of two Chambers of Commerce in the Midwest. A graduate of Indiana University, he is an active member of the International Council of Shopping Centers (ICSC) and in 2005 served as its South Florida Idea Exchange Committee Chairman.
About Southeast Centers
Founded in 1978, Southeast Centers is a full-service, institutional-grade, real estate asset management and development services company with main offices in Boca Raton and Coral Gables, Florida. Our committed mission is to provide best-in-class service and value creation through diligent, return-driven property management, leasing, development, and construction management. For more information, please visit www.southeastcenters.com.
Media Assets